Veridean
"Being born is supposed to hurt. Being ripped from the birth canal, the warmth and serenity of liquid mother, is like the screaming of a thousand banshees in the skull, which tears through the mother, and renders the child separate forever. I remember. I remember the pain, the fear, the cold. My birthing didn't end until fourteen years later. Incubation took place in the form of a monastery, in the sinewy arms of priests who never believed anything they said about god. I could see in their eyes, they loved nothing. Especially not some scrap of a girl, one whom they whispered about, calling me demon. It makes me smile to think they must have feared me. They wanted to turn me, but I have always been stronger than them, smarter, more cunning. My bright green eyes saw through them. And now, I wander, searching. Not for a family who didn't want me, for a home I know doesn't exist. No, for something I cannot explain, something which tugs at me. Some warm darkness, slippery as birth fluids, and as nourishing. My path trembles with possibilities."

Veriden is also known as Esmerelda.

Alignment: CG
Race: Human
Place of Origin:

Allstone
Veridean is a member of the

Fellowship Of The Dark Shards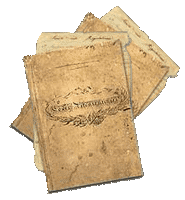 View the journals of Veridean.

Related Articles:

Thieving Rats

,

East Point

,

The King!

,

The End Of The Begining

,

Adventures In Allstone

,

Sir Aeric of Dhoesone

.

Contributor: Anna Sheffey